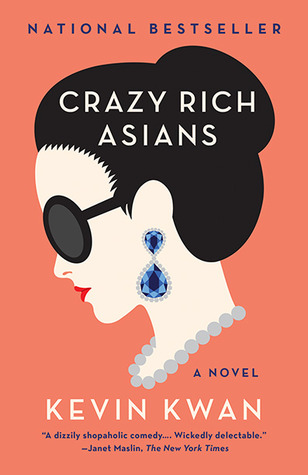 Published: May 20th, 2014
Publisher: Anchor
Format: Paperback
Pages: 527
Genre: Contemporary, Fiction
Rating: 3/5
When New Yorker Rachel Chu agrees to spend the summer in Singapore with her boyfriend, Nicholas Young, she envisions a humble family home and quality time with the man she hopes to marry. But Nick has failed to give his girlfriend a few key details. One, that his childhood home looks like a palace; two, that he grew up riding in more private planes than cars; and three, that he just happens to be the country's most eligible bachelor.
On Nick's arm, Rachel may as well have a target on her back the second she steps off the plane, and soon, her relaxed vacation turns into an obstacle course of old money, new money, nosy relatives, and scheming social climbers.
---
Where do I even start with this book?
I definitely didn't love this, but I can't say that I hated it either. I mean I did finish it after all, but you certainly have to be in the mood to read something like this. Like the kind of mood where you just want to completely disengage your brain and maybe kill off a few cells while you're at it. It's sort of how I feel when I sit down to watch an episode of The Housewives of Beverly Hills.
There was something strangely addicting about the drama that unfolded and it certainly lives up to it's title. Crazy Rich Asians follows the scandal and drama of some of Singapore's most wealthiest families. And by wealthy, I mean disgustingly wealthy. In their world, it's totally normal to buy a pair of $200,000 earrings that you don't even plan to wear. Shocking.
Most of the characters in this book are terrible people, except for Rachel whom you kind of just wish would run as far away as possible and not look back. Nick is kind of an idiot. I mean he has to be to honestly, not even for a second, think it was a good idea to NOT warn Rachel of his insanely crazy family back home. Poor Rachel, totally blindsided.
I gave this three stars because I actually did get sucked into some of the drama, enough that I wasn't willing to give up reading. But I really felt like this book was to long. At some point I started to skim a little because I was so over the endless paragraphs of descriptive haute couture and designer name dropping that I was ready to tear my hair out.
I'm not entirely sure yet if I'll continue with the series. I'm morbidly curious so anything is possible, but for now I think I'll move on.
Have you read Crazy Rich Asians? Love it or hate it?