While I work on my next review I thought it would be fun to participate in Stacking the Shelves, a weekly meme created by Tynga's Reviews where you share what books you've purchased, picked up from the library, received from giveaways, as gifts, or for review.
FOR REVIEW:
Black-Eyed Susans by  Julia Heaberlin
Little Black Lies by Sharon Bolton
As Nights Falls by Jenny Milchman
The Starved: Inception by Rick Ochre
Trust No One by Paul Cleave
Method 15/33 by Shannon Kirk
I'm pretty excited to read all of these books but let it be known that Paul Cleave is one of my favorite authors of the mystery & thriller genre. The fact that I get to read an advanced copy of Trust No One pretty much makes my year!
I received all of these books as e-books from the publishers and NetGalley except for Method 15/33. The publisher contacted me through Goodreads and sent me a hard-cover.
FROM THE LIBRARY:
The Kind Worth Killing by Peter Swanson
On Saturday mornings my daughter and I hang out at our local library. I get to grab a new book to read and she gets to play in the kids room and read lots and lots of fun new books. It's one of our favorite places to hang out together.
I had to put in a request for this book because my local branch did not have it.  I've heard great things about it! Two folks meet on a flight back to Boston, make small talk, then things get weird…and dark… then a plot for murder is born. Yikes!
Genres: Mystery & Thriller, Fiction, Suspense
PURCHASED:
Party Games by R.L. Stine
Dangerous Girls by R.L. Stine
R.L. Stine takes me back…I mean WAY back! I don't know many people who didn't grow up reading Goosebumps or the Fear Street series and these books were huge for me growing up! Party Games is the first book of the Fear Street relaunch so when I saw it at my local bookstore I felt a little nostalgic and had to snag it.
Dangerous Girls is a new series all about romance and vampires (interesting) which made me so curious that I had to grab it too. And for $2.00 I mean, why not!?
Genres: Young Adult, Horror, Thriller, Vampires, Paranormal, Mystery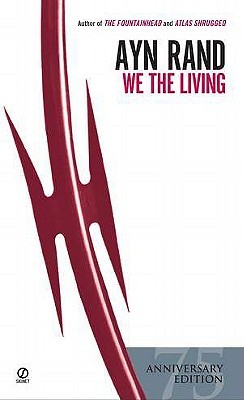 GIFTED:
We the Living by Ayn Rand
This book was gifted to me by someone through Free Objectivist Books. Basically the site gets donors to send books to students who'd like to read them. Pretty simple…and very cool.
We the Living is Ayn Rands first book and was published in 1936. The theme is  "the individual vs. the state" and portrays the impact of the Russian Revolution on three people who demand the right to live their own lives and pursue their own happiness.
Her politics, views, and writings are not for everyone. I'm reading this one to sort of prime me for Atlas Shrugged which is a doozy of a novel.
Genres: Fiction, Classics, Philosophy, Literature
If anyone needs me I will be spending every free moment I have (that's funny) nose deep in all these awesome books!
Happy Reading!